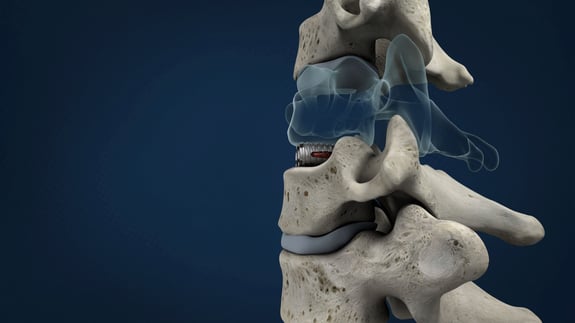 A Small Device with Big Potential for your Practice
VariLift®-C is the only expandable interbody fusion device that can be used at 1 cervical level, unilaterally or bilaterally, with or without supplemental fixation, such as plates and screws.
Zero Profile Construct for True MIS, Outpatient or Inpatient
VariLift®-C is a Zero-Profile, Minimally-Invasive Option for Patients with DDD, Grade 1 Spondylolisthesis, and Adjacent Segment Disease.
Large Graft Chamber allows Overpacking of Fusion Material
With 4 large fenestrations and a generous bone graft chamber, VariLift®-C is designed to allow maximum contact between graft material and endplates.
Minimal Exposure, Retraction, and Tissue Disruption
VariLift®-C reduces exposure and tissue disruption through a straight forward insertion procedure that requires minimal retraction.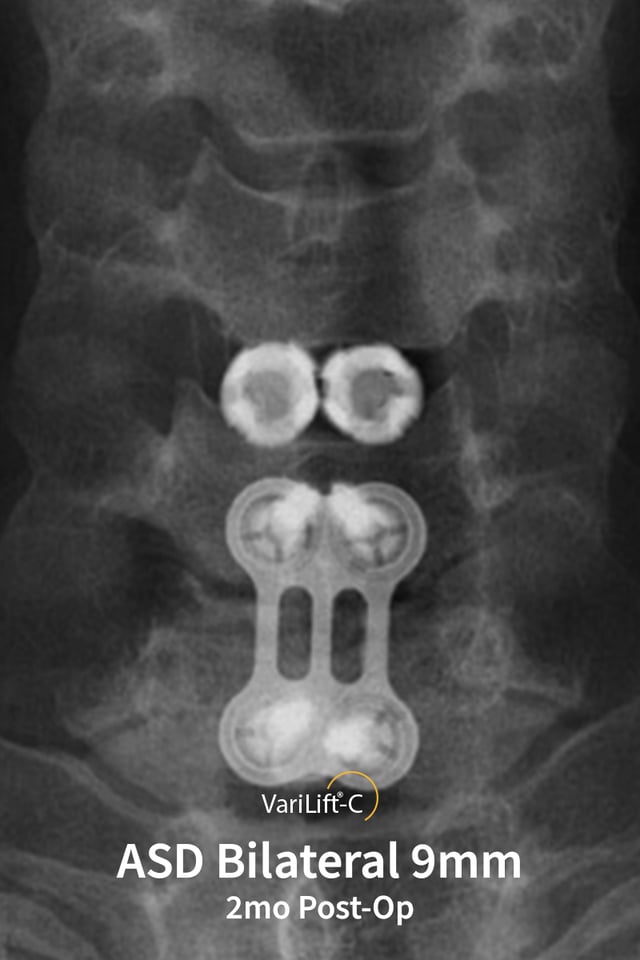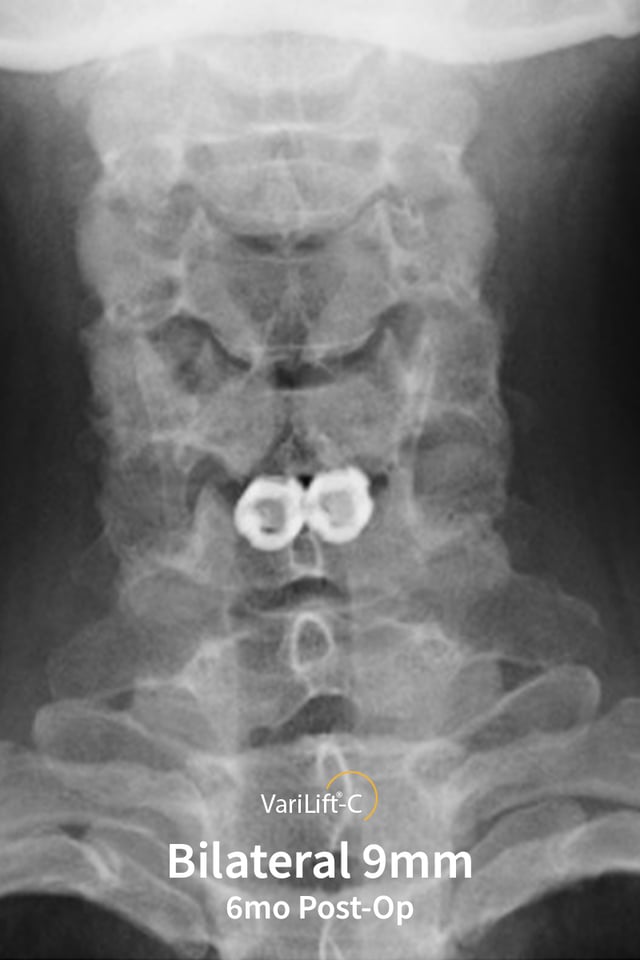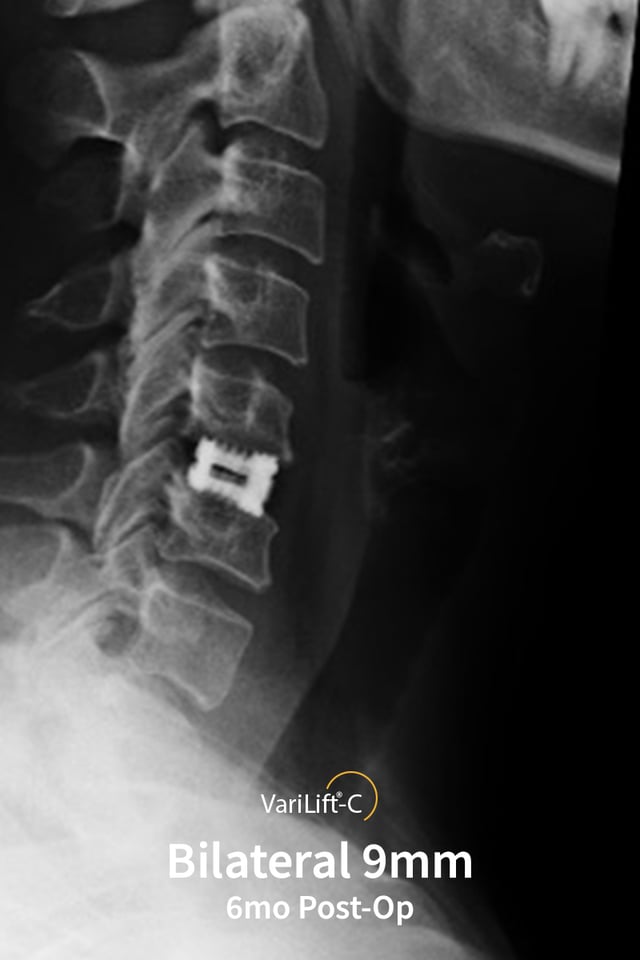 A Shorter Procedure, Ideal for Outpatient Settings
VariLift®-C comes individually sterile-packed, easing the requirements on sterile processing departments before and after cases. Additionally, all products require only one instrument tray, reducing time and footprint in the OR, making it easy to find the required instruments for the procedure.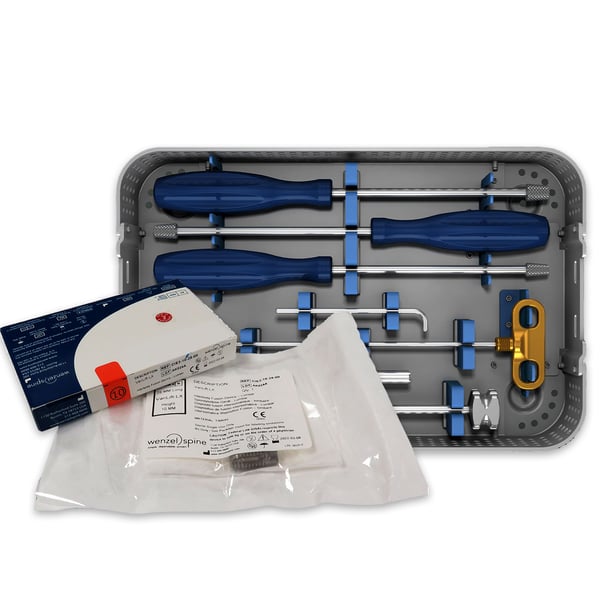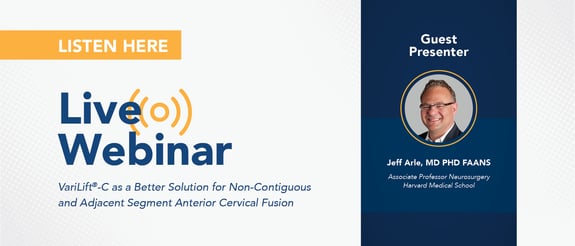 Generous Graft Chamber
Designed to Help Treat Collapsed Disc Spaces and Provide Immediate Stabilization
With a leading edge as small as 5mm, the VariLift®-LX enters into the disc space in a near cylindrical shape and expands in situ. The expansion causes the device edges to gain further purchase into the cortical endplates and provide immediate stability.

Broadest Clearance for ACDF Patient Optimization
VariLift®-C provides proven clinical outcomes and fewer postoperative complications, allowing surgeons to approach any existing procedure conservatively.
Unilateral
Bilateral
1 Level Stand-Alone
With or without fixation
Flexible Treatment Option for Adjacent Segment Disease
Significant clinical success and high fusion rates for the treatment of symptomatic ASD cases. Proven to reduce VAS scores and clinical symptoms without the need for supplemental fixation.
One year follow-up radiographs (a) A/P neutral, (b) Lateral flexion
"The new features of the VariLift®-C system enhances ease of use, and reduces overall exposure and instrumentation footprint. My patients have experienced excellent symptom relief and very low complication rates. In nearly all cases, VariLift-C procedures are done as outpatient surgeries, with patients returning home same day. Another benefit is no separate bone graft harvest or extenders are necessary for the VariLift®-C. procedure. These enhanced features contribute to a very high success rate for my patients."