Why Choose Stand-alone?

We have partnered with 300+ surgeons across the U.S. to provide a simple, alternative approach for spine fusion procedures. VariLift® is the only FDA-cleared expandable solution for stand-alone posterior lumbar and cervical interbody fusion that can be used with or without supplemental fixation.
Stand-Alone Solution
FDA-Cleared and On-Label Stand-Alone TLIF, PLIF, ACDF Procedure
Expands

in Situ
Restores up to 8-9º segmental lordosis in lumbar, 7º in cervical
Zero Impact Insertion
Insert device without disrupting the cortical endplates
Generous Graft Chamber
Substantial graft capacity for ultimate fusion growth
Broadest Clearance for Patient Optimization
VariLift® provides proven clinical outcomes and fewer postoperative complications, allowing surgeons to approach any existing procedure conservatively.
MIS-TLIF, Single-Incision PLIF, Zero-Profile ACDF
1 or 2 Level Stand-Alone for Lumbar, 1 Level Stand-Alone for Cervical
With or Without Fixation
Inpatient or Outpatient, ASC-Friendly
Flexible Treatment Option for Adjacent Segment Disease
Significant clinical success and high fusion rates for the treatment of symptomatic ASD cases. Proven to reduce VAS scores and clinical symptoms without the need for supplemental fixation.
A) Pre-operative MRI showing ASD, B) Post-operative lateral radiograph, C) Post-operative A/P radiograph with placement of the 2 standalone devices at L2-3 and L3-4 and continued presence of the pre-existing anterior/posterior fusion construct.
Download Study
Designed to Resist Migration and Subsidence
The VariLift® surgical technique advances the device into the disc in a manner that preserves the endplate cortical bone and limits causes of subsidence. Clinical experience with VariLift® has demonstrated a very low subsidence rate that is further supported by bench-top subsidence testing per ASTM standards30 and FEA studies comparing the VariLift® device to cylindrical cages.23 As the VariLift®-LX is expanded, the near cylindrical shape of the device becomes wedged with 7º (cervical) to 8-9º (lumbar) of lordosis. The grooves on the surface of the device provide stable primary fixation with the endplate surface to resist migration.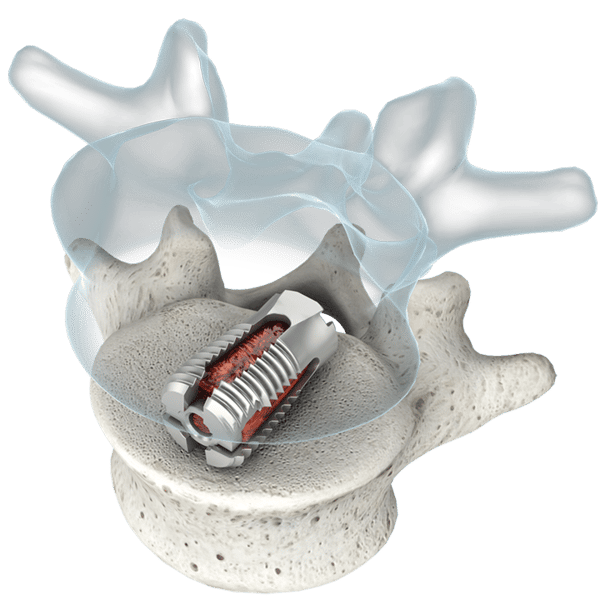 Expands
in Situ

creating a Large Graft Chamber
Designed to Help Treat Collapsed Disc Spaces and Provide Immediate Stabilization
With a leading edge as small as 6mm for lumbar and 5mm for cervical, the VariLift® enters into the disc space in a near cylindrical shape and expands in situ. The expansion causes the device edges to gain further purchase into the cortical endplates and provide immediate stability while a large graft chamber allows for insertion and overpacking of material to promote fusion.


VariLift®-LX Retrospective Study
Treatment of Symptomatic Lumbar Disc Degeneration with the VariLift-L Interbody Fusion System: Retrospective Review of 470 Cases
Published: 5/3/2016 | International Journal of Spine Surgery
Contributors: Warren F. Neely, MD | Frank Fichtel, MD | Diana Cardenas del Monaco, PhD | Jon E. Block, PhD
"My motto for my patients all along has always been 'Faster Safer Better' and VariLift®, as an FDA-approved stand-alone interbody, is the ultimate evolution of that."